TGI Promo has worked hard to provide the best embroidery services in Tulsa possible. By keeping all orders in house, our team can maintain a commitment to quality and attention to detail to ensure each project is completely accurate and quickly.
Our team offers embroidery on all of the popular name-brand shirts and jackets from Nike, Ogio, Port Authority, and many other excellent options. However, our diverse embroidery options don't end there, we can also embroider shorts, sweats, bags, hats, towels and more!
Tulsa Embroidery Services
TGI Promo offers a wide range of embroidery services for any and all needs from our Tulsa, Oklahoma headquarters. From creating custom apparel to embroidering corporate logos, our experienced staff is ready to bring your vision to life.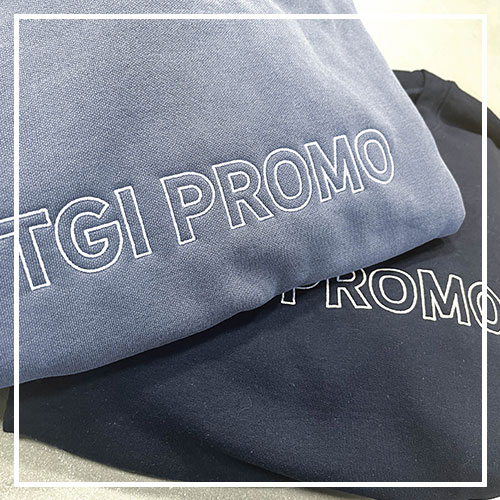 We offer a full range of custom embroidery services to fulfill any project goals you may have. Our team is well-equipped to handle large orders, and we have a great selection of apparel and accessories to choose from. If you are struggling to find the right apparel, our knowledgeable staff can even help you find the perfect garment to showcase your custom embroidery design.
TGI Promo also offers a variety of customization options, making it easy to get just what you need. We can personalize items with initials, monograms, and logos. Our embroidery team in Tulsa also offers a variety of fonts and colors to choose from. If you are looking for something extra special, we can also create customized designs that are uniquely yours!
Whether you need a few items for a corporate event or a large order of custom apparel, TGI Promo has you covered. Our experienced staff is always ready to help you create the perfect look. With efficient production and fast turnaround times, you can be sure that you'll get your order on time and just the way you wanted it.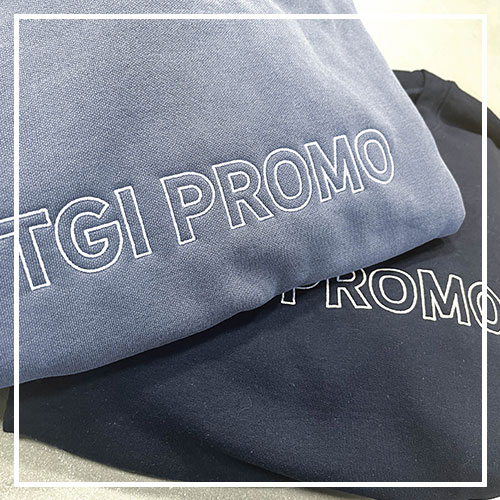 Looking for custom embroidery services in Tulsa, Oklahoma
Looking for custom embroidery services in Tulsa, Oklahoma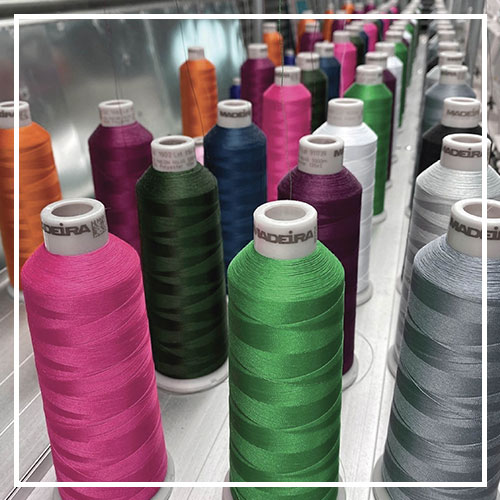 What is Embroidery?
Embroidery is the art of decorating fabric or other materials with needle and thread or yarn. Embroidery may also incorporate other materials such as pearls, beads, sequins, and quills. It is most often used on clothing, household linens, and decorative items.
What is the turnaround time for an embroidery job?
The turnaround time for an embroidery job typically depends on the complexity of the design and the size of the order. Generally, most embroidery jobs can be completed within 2-4 weeks. However, for larger orders, it can take up to 6 weeks or more to complete. For an accurate timeline, please request more information!
What types of items can be embroidered?
Common items that can be embroidered include clothing such as shirts, hats, jackets, and pants; accessories such as bags, backpacks, and scarves; and even home decor items such as pillows and blankets.
What thread and fabric are used for embroidery?
The most common thread and fabric used for embroidery is cotton thread and cotton or linen fabric. Other materials such as wool, silk, rayon, and metallic threads can also be used for embroidery, as well as other fabrics such as velvet, canvas, and muslin.
How can I be sure my embroidery design will look good?
The best way to make sure your embroidery design will look good is to plan it out before you begin. Draw a mock-up of the design on paper and think through the colors and stitches you want to use. You should also consider the size of the fabric and how the design will fit onto it.
If you are struggling to create your own embroidery design, the Art & Design team at TGI Greek can help. You can find more information about these services on this dedicated page.
Are there any restrictions on the size of an embroidery design?
Yes, there are restrictions on the size of an embroidery design. The size of the design will depend on the type of machine used to create the design. Additionally, the size of the hoop used to hold the fabric and the type of stitching used also affect the size of the design.